THE HIDDEN COST OF THE AMNESTY BILL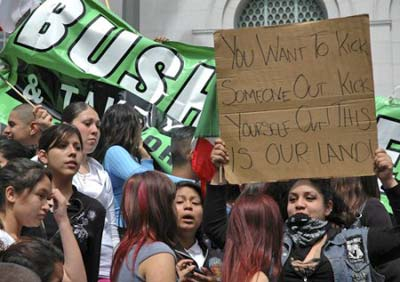 Yesterday Heritage released a special report written by Rector and Christine Kim titled "The Fiscal Cost of Low-Skill Immigrants to the U.S. Taxpayer.
You aren't going to hear very much about this report from the mainstream media. John McCain and Ted Kennedy, the architects of the amnesty bill, are going to do their best to ignore it.
So ... we'll tell you right here.
First .... There may be a common perception out there that these illegal aliens actually contribute to our economy by "doing the jobs that Americans won't do." Not so. Illegal alien households cost the American taxpayers billions of dollars a year. Try $89 billion.
The Heritage report points out that at least 50 percent and maybe as much as 60 percent of illegal alien households lack a high school education. This makes them low-skill households.
Here's where the numbers start to get interesting --- or depressing, if you will.
Do you know what a "distributional deficit" is? That's the difference between what you pay in taxes to government and what government spends on you and your household. The paper will give you the details, but low-skilled immigrant households in the U.S. received about $10,000 more in government benefits than does the average U.S. household. What's the figure? About $30,160 every year in immediate benefits and services for every low-skill immigrant household. To compound the distributional deficit, low-skill immigrant households pay less in taxes than do the average U.S. Households. These low-skill immigrant households pay about $10,573 a year in taxes. Subtract this from the amount government spends on them and you have a deficit of $19,588.
Let's carry these numbers for our wonderful illegal -- soon to be legal -- households out a few years. Rector says that the average adult lifespan for each head of household is about 60 years. The research shows that this distributional deficit will continue throughout this life span for low-skill immigrant households. The total? About $1.2 million for each low-skill immigrant household.
In 2004 there were 4.5 million low-skill immigrant households in the U.S. More math: Multiply the average net distributional deficit of $19,588 per household and you get a total deficit of $89.1 billion .... per year!
Ask yourself .. can this country afford this? Can we afford an amnesty bill that will legitimize and legalize these illegal-alien households, and millions more to come? No. The costs are financially unsustainable.
Why isn't this more of a part of the immigration debate?
Excerpt From Boortz.com
Posted by Eric Von Zipper at
08:58 AM
|
Comments (7)
|
TrackBack